You are currently browsing the monthly archive for August 2009.
It was recently announced that Megan Fox will be the host for the premiere of the 35th season of Saturday Night Live, which will air on September 26. At first, I hated this choice, mainly because I can't stand Megan Fox. Then I began to see that Fox has the potential to succeed as a host. If she actually goes for it, and doesn't worry about looking stupid and doesn't mind poking fun at herself, they could probably get some funny material out of her. And (despite her questionable level of skill) she is an actor. Actors almost always do a better hosting job than politicians, musician, or athletes (though there is at least one exception with Peyton Manning, who was probably one of the best hosts of recent SNL history), since that's what they do. You can't expect to send Michael Phelps in there and automatically get comedic gold. But even if Fox does a decent job hosting, it's still a pretty safe, predictable choice on SNL's part. They know that most people tuning in won't even care if Fox is funny. Does anyone ever watch anything involving Megan Fox to admire her talent? So I began to think about people who I think would be edgier, funnier hosts. Last season, the show's more successful hosts were the oddball, unexpected choices, like Jon Hamm, John Malkovich, and Neil Patrick Harris. So here are ten people who have never hosted Saturday Night Live (to the best of my knowledge), and who I think could do a great job with it.
1. Zach Galifianakis
His comedy style is incredibly offbeat, but I think it would be a refreshing change for a show where the biggest problem is stale writing. In my opinion, there are two kinds of hosting styles for SNL. Some hosts try to compliment the comedy of the show, and if they're successful (think Anne Hathaway or Zach's Hangover co-star, Bradley Cooper), they almost seem like they could be one of the cast members. But other hosts are larger than life and steal every skit that they're in, even if they're the straight-man. Galifianakis could be the next Christopher Walken.
2. Will Arnett
He's married to the show's most beloved recent alumnus, and he was on the already-classic Arrested Development. So why hasn't Will Arnett hosted? He could definitely be another scene-stealer, and I could see him playing off of the rest of the cast really well. After all, he's already done movies with most of the shows' cast members (Hot Rod, The Brothers Solomon, The Rocker), so I think his humour would fit in well.
3. Anderson Cooper
So this probably seems like a weird choice for the #3 slot, but if you've ever seen CNN's "Silver Fox" interviewed outside of the newsroom, you know that he's a pretty quick guy. Brian Williams did quite a respectable hosting job a couple of years ago, and I think that Cooper could follow suit.
4. Zooey Deschannel
Everyone loves Zooey, and I think that her sunny, laid-back charm would do wonders on the show. She's got a quirky kind of vibe about her, which be a change from the usual starlets that they have on the show.
5. Demetri Martin
Another stand-up comedian turned actor who has a quirky style about him. He's very youthful, and I think he would work well with the rest of the cast. His oddball humour seems kind of similar to the work that the Lonely Island team is doing, so I think that he would be a great match.
6. Ryan Reynolds
He seems to be more along the lines of the hosts that SNL usually gets, and I wouldn't be surprised if we see him hosting the show (though we might have to wait until The Green Lantern movie comes out). He's really funny, and even in some of the so-so movies he's been in, his charisma still shines. I think he would be a lively choice.
7. Joel McHale
The hilarious host of The Soup already incorporates some sketch comedy into his show, so I think he would adapt easily to SNL's format. He's got a new series coming this fall (Community), and will be in the new Soderbergh flick (The Informant!) so now we just need him to bring some of his talent and wit to this venue.
8. Jason Segal
Almost every other big name from the Apatow clan has hosted, so I think it's probably a matter of time until Jason Segal does, too. He's a very funny guy, and has that "everyman" quality, which can be very funny. I think he'd be willing to do just about anything on the show.
9. BJ Novak
Steve Carell and Rainn Wilson have both successfully hosted the show, and I think that it's about time that another Office cast member tries their hand. John Krasinski and Jenna Fischer would probably both be fine choices, but my pick is actually for BJ "Ryan the Temp" Novak. He's seems like a cool guy, and he always has awesome reactions to wacky situations.
10. Amy Ryan
Okay, so she's also on The Office, but I think that Amy Ryan would be great, too. Of course, she's primarily a serious actor, but she's just so charming as Steve Carell's love interest, Holly. She's quirky, but I think she'd also fit in with the style of the show.
So there you have it. Disagree with any of my choices? Have any of your own to add? Feel free to leave a comment!
Here's the second part of my "Favourite Performances of the Decade" feature. You can check out the first part of the series here, and be sure to stay tuned for the next three parts, which will be revealed over the next few months.  
Emile Hirsch – Into the Wild (2007)
In Sean Penn's directorial debut, Emile Hirsch plays Christopher McCandless, a young man so disillusioned with society that he sets off alone on a journey to Alaska. Though McCandless meets a few kind strangers along the way (most notably, a lonely old man played by Hal Holbrook), the film is essentially Hirsch's. Luckily, he seems to have no trouble filling three hours with his understatedly charismatic, honest performance. Whether McCandless is marvelling at the breathtaking Alaskan wilderness, or struggling to survive in the face of its backlash, Hirsch's performances never seems forced. In fact, I found it indefinably inspiring. As the audience, we follow the arc of emotions that McCandless goes through, and Hirsch is a good companion to have along for the ride. His performance is joy, innocence, heartbreak, and courage all rolled into one. Into the Wild is long and kind of slow-moving, but it's ultimately very rewarding to watch, and a lot of this is because of Hirsch's wonderful performance.
Jim Carrey – Eternal Sunshine of the Spotless Mind (2004)
As much as I love Jim Carrey's style of comedy (I'm picky about broad, physical humour, but Jim Carrey's always makes me laugh.), my favourite performance of his came in Michel Gondry's 2004 breakthrough, Eternal Sunshine of the Spotless Mind. Here, he plays Joel, a lonely, low-key man who finds love in the quirky Clementine (played by Kate Winslet). But don't let the floppy hair and glum demeanour fool you. Carrey's Joel isn't just some middle-aged guy who's still wallowing in teen angst. Carrey brings more dimensions to his performance. I totally related to Joel, and while a lot of the credit goes to the brilliant writing of Charlie Kaufman, Carrey's performance also played a huge part. Even when the film takes a bizarre turn and explores the world of purposeful memory loss, Carrey still brings a lot of heart, and his presence keeps the film grounded.
Ellen Page – Juno (2007)
Page's portrayal of the sixteen-year-old mom-to-be in Juno is just as sassy as everyone says, but while Juno seems self-assured, we learn that a lot of her bravado is covering up insecurities. Vaguely questionable relationships with the man about to adopt her child (played brilliantly by Jason Bateman) and dealing with the judgement that she faces as a pregnant teen clearly begin to wear Juno down. Page's performance feels perfect as she plays a girl who is slowly stripped of her defence mechanisms (sarcasm, mainly), and is only left with real life to deal with. The way that Page reacts to teenage experiences that are both typical and unusual was so believable, and just a joy to watch. Her performance is the reason that so many different types of people loved this movie, and it's probably the most authentic portrayal of a teenage girl that I've seen on film.
Casey Affleck – The Assassination of Jesse James by the Coward Robert Ford (2007)
Not since Jon Favreau called the same girl's answering machine six consecutive times in Swingers have we witnessed such an epic display of loserdom on screen. But while Favreau's performance was played for laughs, the 2 hours and 40 minutes we spend with Casey Affleck's bumbling Bob Ford is far from comedic. The movie itself is a complex character study of the two men in a battle of wits (Robert Ford and Jesse James, who is played by Brad Pitt), and their never-ending quest to be one step ahead of the other. At one point, James muses to Ford, "I'm not sure if you want to be like me, or to be me." That sentiment kind of sets the tone for Affleck's entire performance, which twists and evolves beautifully throughout the film. I found Affleck's performance unexpectedly moving, in a way. This is best shown in the last half hour or so of the film, after Bob has killed Jesse and has to return to the real world – only to find that they don't want him, either. He's annoying and egotistical, yet Affleck's amazing performance made me pity and even sympathize with this bizarre character.
Leonardo DiCapprio – The Departed (2006)
In Martin Scorsese's Oscar-winning film, DiCapprio plays Billy Costigan, a conflicted young man working as an undercover investigator for the Boston police. When he's assigned to get in with gangster Frank Costello (Jack Nicholson) he soon finds himself in over his head. One of the things that I liked most about The Departed is that they had two characters on either side of the law, who are crossing into each other's turf for their work (a very clean-cut Matt Damon plays Colin Sullivan, who is a Costello's rat in the SIU), and they flip our expectations early on in the film, when we find out who is working for who. DiCapprio is so convincing as a man with a questionable family history (which is the entire reason that he was chosen to be the mole), but who is essentially good, and strives to do the right thing. The conflict that Costigan feels is played so well, and the entire process that he goes through is really amplified by DiCapprio's great work.
I have a few half-finished blog entries floating around on my hard drive, but after seeing a few rather interesting movie trailers at Julie & Julia the other night, I figured that instead of actually finishing anything, I'd share some of the movies that I'm looking forward to most this year.
Nine
I'd vaguely heard of Daniel Day-Lewis' next film a while ago, but I saw the trailer for the first time at Julie & Julia. All I can say is WOW. I'm not exactly sure why I am so excited for this movie. I wasn't all that crazy about Chicago (which was done by the same director), and while I appreciated the inventiveness of Moulin Rouge!, it didn't quite do it for me, either. I'm not even entirely sure what this movie is about. Maybe it's Daniel Day-Lewis, or the incredibly flashy trailer, but something about Nine has just totally captured my curiosity. It looks provocative, over-the-top and just plain exciting, which is refreshing. It's got an all-star cast (which can sometimes spell disaster, but in this case looks promising), and with Kidman, Cotillard, Cruz, and Day-Lewis, I think it's going to be good.
Taking Woodstock
Officially released this Friday (and probably never coming to a theatre near me), Ang Lee's take on the true story of a young man whose property became the site of the legendary Woodstock festival looks like it'll be right up my alley. The reviews are mixed so far, but I looove Demetri Martin's stand-up (and I've heard that he's quite good in the movie). The whole 60′s/Woodstock thing has fascinated me for a while (though I do believe that it has all been majorly romanticized), and the movie looks like a wonderful, vibrant coming-of-age story.
Where The Wild Things Are
Excitement levels have been through the roof since the trailer for Where the Wild Things Are hit the internet months ago, and I hopped on the bandwagon right along with everyone else. I love all of Spike Jonze's work (Being John Malkovich! Adaptation! So many seminal 90′s music videos!), and it looks like he might have topped himself with this fanciful take on the classic children's book (I'm sure it was read to me at some point in my life…) Whimsical and warm, if the trailer is any indication of what's to come, count me in.
Sherlock Holmes
Well, come on! Robert Downey Jr. is proving himself to be one of the most bankable stars of the late 00′s thanks to his massive comeback in Iron Man, and Sherlock Holmes (set for a holiday release) looks like it could be another huge hit for the guy. I was initially slightly confused by the casting, but after seeing the trailer, I get it. It looks fun, charming, and exciting, and I'm definitely excited for Downey's performance as Holmes himself. It's directed by Guy Ritchie and co-stars Jude Law and Rachel McAdams.
Whip It

Ellen Page is awesome, so of course I'm looking forward to this one. It's Drew Barrymore's directorial debut, but after being in movie's all of her life and producing Donnie Darko, she clearly knows how a movie is made. This roller-derby story looks fun and surprisingly heart warming, and I'm glad to see Kristen Wiig getting more film work (even if it is still a supporting role). And whoever that guy is who's with Ellen Page in the trailer, I'm keeping my eye on him!
Fame
Okay, so this one might turn out to be terrible. But for now, I will at least say that I'm "optimistic" about this remake of the 1980 classic dance film. The trailer looked good, and it feels like this is a good time for the Fame remake to be released. With the success of the High School Musical franchise and shows like So You Think You Can Dance, they're smart to strike while the iron is hot. Fame looks a grittier and more authentic than High School Musical, and seems to feature genuinely talented teens. (Although I just found out that Fame's only going to be rated PG? Maybe it will be lame after all…)
Brothers

Jake Gyllenhall and Natalie Portman are two of the most talented young actors around. And even though the plot kind of sounds like a ridiculous soap opera, I'm still hopeful about this project. Somebody finally thought to cast Gyllenhall and Tobey Maguire as brothers, and judging by the trailer, everyone's chemistry seems good. To me, Brothers looks like it will be tense and brooding, in a good way.
The Road

I don't know much about it, but this adaptation of the acclaimed Cormac McCarthy (author of No Country For Old Men) novel looks exciting and horrifying. Viggo Mortensen and Charlize Theron are great, and this post-apocalyptic world looks legitimately interesting, unlike some of the big-budget action movies that try to portray a similar world.
The Lovely Bones

I liked the book, so I'm curious to see what they do with the movie. To start with, it's got a great cast. Saoirse Ronan, Rachel Weisz, Stanley Tucci, Susan Sarandon and Mark Wahlberg are all top-notch actors. While My Sister's Keeper and The Time Traveller's Wife apparently fell flat when put to the big screen (though I haven't read either book or seen the movies), I think that this one could succeed. I'm a bit iffy on the trailer (I think they're trying to make it look exciting by focussing more on the killing than the Salmon family dealing with the death, which is more what the book was about), but I'll still definitely be checking out The Lovely Bones.
Love Happens

Okay, so it looks a little sappy/conventional, but I don't think that there are two better actors out there to pull off a this kind of big, Hollywood romance. I love Aaron Eckhart, and I think that Jennifer Aniston deserves more credit than she usually gets. And any movie that has Judy Greer as the sassy, tells-it-like-it-is friend clearly has some redeeming qualities. Love Happens looks like the kind of movie that I would typically avoid, but I guess I'm just drawn to this one.
We all know which albums are largely considered to be "classics". Every serious rock fan probably has Revolver, Blood on the Tracks, Thriller (especially this summer), and Harvest on their iPod. But what about the output by these bands that has fallen by the wayside, for some reason? Maybe it's a band's first album from before they hit it big. Or maybe it's a follow-up to a huge album, and fans' expectations were unrealistically high. I'm going to be explore some of the albums by big names that I feel tend to be unfairly overlooked. In many cases, I agree that the artist's more "famous" work is better, but, in my opinion, these underrated works by popular artists are certainly worth a listen to, nonetheless. For the first segment, I'll be talking about Nirvana's Bleach.
Before Kurt met Courtney, and before they knocked Michael Jackson from the top spot of the Billboard chart, the artists formerly known as "Fecal Matter" recorded an album for $606.17 on Seattle's indie label, Sub Pop. Sub Pop had released albums by similar acts such as Green River and Mudhoney, two of Seattle's founding grunge bands. (Today, Sup Pop is still releasing cutting edge music by young bands like No Age and Fleet Foxes) This would be the only full-length album that Nirvana would release with the label, as they later accepted an offer from major label DGC. Nirvana's 1989 debut album, Bleach, gives a decent idea of what was to follow in the band's career. Their sound is much less refined, and the music is generally more towards the punk persuasion, but the foundation is there.
The classic Nirvana line-up was not yet in place when Bleach was recorded. Chad Channing is on drums here, and while he does a fine job, it would have been interesting to listen to Bleach with Dave Grohl's powerhouse drumming backing them up instead. Jason Everman was also in the band (briefly) as a second guitarist during the Bleach era, but doesn't actually play on the album (he got to be on the cover, and is credited as playing guitar on the album, though. He was the one who lent the band the money to record. If I remember correctly, he has not yet been paid back), so it's all Krist Novoselic and Kurt on guitars. Even though the band's sound is a little rougher around the edges, the album certainly has its highlights. "Sifting", "Blew" and "School" are sludgy, early grunge at its best, and "Floyd The Barber" gives a pretty big hint towards the wicked sense of humour that Cobain would display so often (see his Morrissey-style performance on Top of Pops circa 1992 for further proof). But the true diamond in the rough here is "About a Girl". Its simple melody and honest lyrics are the first glimpse we got at the flipside to Nirvana's noisy rock, and it still remains one of their best songs. The sincerity and vulnerability of that track must have come as a surprise to those listening to the album when it originally came out, but luckily the band pursued that style on standouts later in their career, such as "Polly" and "Dumb".
I've often heard people assume that Nevermind was Nirvana's first album, and while that's understandable, it doesn't give the band enough credit. Nirvana's rise to fame was pretty quick, but they were not overnight sensations. Kurt and Krist formed the earliest version of the band is 1987, and they paid their dues with this authentically grunge album. Bleach is the sound of a promising indie band laying down their first work for the sake of making music, not selling records. And it's a document of the early grunge era, before Nirvana themselves turned the genre into a viable mainstream marketing strategy. It is essential listening for Nirvana fans, and anyone who's interested in learning about the evolution of the last quarter century's greatest pop band should definitely give Bleach a spin.
Bleach, 1989
Sub Pop
1. Blew
2. Floyd the Barber
3. About a Girl
4. School
5. Love Buzz
6. Paper Cuts
7. Negative Creep
8. Scoff
9. Swap Meet
10. Mr. Moustache
11. Sifting
12. Big Cheese
13. Downer
Here's a live performance of Nirvana's fantastic outtake, "Sappy", from 1989. The song isn't on any of their main albums, but it can be found on compilations such as With the Lights Out, and Sliver: The Best of the Box. Definately one of my favourite Nirvana tunes, and it's nice to see that they were already showing their great live energy back in '89.
Side Note: It was recently announced that Bleach will be rereleased on Sub Pop to commemorate the album's 20th anniversary. Along with a remastered version of Bleach, the two-disc set will include an unreleased live Portland performance from 1990, and the obligatory booklet with rare band photos. Should be cool.
 With its overly thorough title, runtime of 160 minutes, and slow pace, it's not surprising (though it is definitely infuriating) that 2007′s The Assassination of Jesse James by the Coward Robert Ford did not receive the studio backing or box office success that it deserved. Luckily, the film has gained a strong legion of fans, and many people have found the film through good old-fashioned word of mouth. Casey Affleck's Oscar nomination for the film has probably also helped the film gain the notoriety that it deserves.
 In The Assassination of Jesse James by the Coward Robert Ford, Brad Pitt stars as Jesse James, the charismatic bandit who robs trains while also raising a family. Casey Affleck is Robert "Bob" Ford, a young man who idolized Jesse as a child, and forces his way into Jesse's ragtag group of outlaws. Jesse is fascinated by Bob, but never seems to truly trust or accept him. Jesse's group slowly begins to turn on each other, and as the paranoia sets in, Bob and his brother make a plot to bring Jesse down. (Spoiler: they succeed.) It's a seemingly simple story drawn out, but without the long set up to the inevitable assassination, there would not be the same kind of tension, and the audience would not have as clear of an idea about why things played out like they did. I found that the film rarely dragged, and every scene in the movie worked to add layers to this slowly twisting story.
 One might expect a film about Jesse James to be action-packed and exciting, but this truly is a character study of two troubled, fascinating men squaring off in a mental battle. Both Bob and Jesse are always trying to think two steps ahead of the other at all times. That being said, the film is punctuated with a few violent outbursts, and they really work to underscore the desperation and volatility of James and Ford's lives, rather that desensitize the audience with endless killings.
 The ensemble cast is great, and even the small roles are played by reliable actors, such as Sam Rockwell and Paul Schneider. As for the stars, Brad Pitt is also quite good as the infamous Jesse James. James' natural charisma and proto-celebrity status doesn't seem like too much of a stretch for Pitt, but it's the other side of Jesse that Pitt is unexpectedly good at. More than once, Jesse lets out a twisted, malicious laugh at someone else's expense (usually Bob's). Pitt's Jesse cackles so desperately that every other character on screen joins in out of sheer fear.
 But the real revelation here is Casey Affleck. Robert Ford is a sulky dweeb, yet thanks largely to Affleck's performance, we sympathize with him throughout the entire movie. Affleck seems to embody the conflict that Robert Ford felt perfectly. Affleck is especially good in the last half hour of the film, where Ford has to come to terms with what he's done. Even after killing a murderer, Ford is still shunned by the public. The act that he thought would bring him glory, and make him part of the Jesse James legacy, has only caused more trouble for him. Affleck's biting performance exudes the dejection and weariness that Bob feels, unable to ever truly triumph.
 The Assassination of Jesse James has a strong, quiet sense of both artistry and entertainment. There are many breathtaking shots, and it's clear that a lot of care and time went into making this film. I was especially impressed by the director Andrew Dominik's ability to take a simple, static shot, like Bob and his brother sitting in a wheat field, and turn it into a dynamic scene. The cinematography here is top-notch, and that too is used effectively to move the film along. The Assassination of Jesse James by the Coward Robert Ford would be worth watching for Casey Affleck's stirring performance alone, but the languid, stark beauty of the film elevates it beyond being merely "good".
 9/10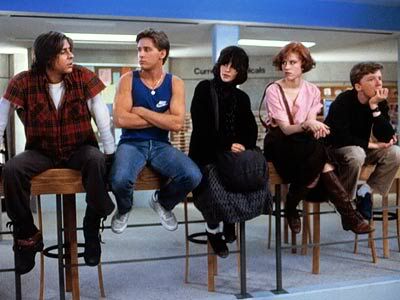 I may not be of the generation that was impacted most by John Hughes' work, but I thought that I should give him a little tribute after just reading about his death. For those of you who haven't heard, John Hughes, the man behind many iconic 80′s teen movies,  died earlier today from a sudden heart attack, at the age of 59.
 I haven't seen all  of his work, but, like any teenager worth their salt, The Breakfast Club and Ferris Bueller's Day Off are two of my favourite movies. Sixteen Candles and Pretty in Pink (which he wrote) are great, too. All of these movies seem wonderfully "retro", but they've aged well because they're so honestly written. I think they'll continue to be seen as cinematic classics, and many future generations of teenagers will be able to relate to them in the same ways that I, and so many others, have. Who can't relate to at least one (if not all) of the detainees in The Breakfast Club? The characters ring true, and this makes his movies a joy to watch. Though he hadn't directed a film since 1991, and seemed to be somewhat reclusive in the last years of his life, John Hughes' legacy and work will live on, and he will be greatly missed.