You are currently browsing the monthly archive for July 2009.
Though I can't keep up with the blink-and-you'll-miss-it music blog trends, I do have an interest in new music. These are a few songs that have caught my attention, and while this is really for personal reference (so I remember to give these bands a more serious listening to), I figured that I'd share a few tunes with anyone who's interested (and because this avoids another file getting tossed into the "lists" folder on my computer – it's getting borderline obsessive).
The Gaslight Anthem – "The '59 Sound"
Off the album of the same name, this song has a bit of a "Born to Run" vibe about it (which makes sense, since they've recently been cavorting around with The Boss himself). But if you're not a fan of extended sax solos, fear not! This song is modern and passionate, and it feels honest to the world we live in. The lead singer's voice reminds me of someone…but I can't put my finger on it. Help, anyone?
The Arkells – "The Ballad of Hugo Chavez"
This little band is from Hamilton, Ontario, and I love their sound, from what I've heard of them. Their bouncy feel worked well on lead single, "The Boss is Coming," but it seems like they've perfected it in this joyful toe-tapper. The political figure behind the song is interesting and all, but really, when a song is this catchy, who cares about politics?
The Airborne Toxic Event – "Sometime Around Midnight"
These guys are a little bit mopier than the first two entries, but the atmosphere in this song is lovely. I think they're getting Arcade Fire comparisons, but I'm not quite sure if I hear it in this tune. They've got the massive, warm sound, but besides that, I think they're their own entity.
Dead Man's Bones – "In the Room Where You Sleep"
Ryan Gosling (yes, that Ryan Gosling) has a crazy, unexpected voice (it's much deeper than I would have thought!), which we get to hear in this track from his musical side project, Dead Man's Bones.  They call their music "goth-folk", and that seems pretty fair. Their MySpace promises "album soon", and it was announced earlier this month that they'd signed to a record label called "Anti-". Though I'm not sure I'm thrilled that this project will inevitably take some of Ryan's focus off his acting career, the two songs they've posted sound great, and I'll definitely be checking out this album.

I've never really considered myself much of a fan of romantic comedies. I even turned down an invitation to see The Ugly Truth with some friends tonight in favour of seeing the new Harry Potter movie (and because The Ugly Truth looks fairly terrible). There's so much mindless crap out there that's targeted towards women looking for pointless escapism, and these so-called rom-coms usually aren't very romantic or funny. I knew that there were a few I liked out there, but then I stumbled across Paste magazine's list of the 17 best romantic comedies of the decade. I realise that their article is six months old, which makes it either obsolete or nostalgic in internet terms, but if you want a testament to how current I am, read the subtitle of this blog. ANYWAYS, the point of this is to say that Paste came up with a pretty good list! You can click here to read the full article. 
As they admit, they use the term "romantic comedy" pretty loosely. Personally, I never really considered Wall-E or Eternal Sunshine of the Spotless Mind to be comedies, much less romantic comedies (where's Hugh Grant? And the sappy airport endings?), but I think it was a great choice to include them. Those movies offer an alternative to the usual cheesy fare that always seems to test my gag reflexes. And while movies like Waitress, About a Boy, and High Fidelity are slightly more conventional takes on the genre, they're also a cut above the rest. They have much better acting, and you can tell that genuine affection went into making these films. I really enjoyed all of the movies on this list that I've seen, so what does that say about me? Perhaps I'm not the cold-hearted realist I like to think I am? Perhaps there isn't anything wrong with me for tearing up during the trailer for The Time Traveller's Wife for no apparent reason? Perhaps I can enjoy movies where people don't die and aren't addicted to drugs and don't have to deal with real world problems? Maybe all it takes is a good love story.
And speaking of that, here are 10 more "romantic comedies" from this decade that I really enjoyed:
10. Kate and Leopold (Kind of your typical rom-com, but the leads are charming, and the fish-out-of-water story is amusing)
9. 2 Days in Paris (Adam Goldberg is hilarious. The French setting lovely, and it manages to be both incredibly charming and funny.)
8. Meet the Parents (More of a straight comedy, but Ben Stiller goes through it all in the name of love.)
7. Kiss Kiss Bang Bang (It balances a film-noir spoof with a romantic side plot, and both are equally strong.)
6. Elf (Don't even deny it.)
5. Wristcutters: A Love Story (Stories about suicide are not generally good romantic comedy fare, but this one pulls it off. Darkly funny and romantic.)
4. Definitely, Maybe (Ryan Reynold is charming, and this well-constructed, sweet story is what The Proposal wished it could be.)
3. Almost Famous (Great coming-of-age story that happens to involve rock stars.)
2. Nick and Norah's Infinite Playlist (It received mixed reviews, but I thought Michael Cera and Kat Dennings had great chemistry.)
1. Garden State (Okay, this one's a little sappy – and if I remember correctly, the climax takes place in an airport – but even I could not resist cheering for the perfect hipster couple.)
EDIT: Oh, yeah, and how good does (500) Days of Summer look?! I'm dying to see it, but it's still in pretty limited release, so it's not playing near me.
This is the first part of an ongoing feature where I'll be sharing some of my favourite film performances of the decade. It's impossible to compare and rank these performances, as they're all very different and equally good, so I'll just be posting 5 random performances at a time. It will probably be a five part series. My list is a work in progress, and I'll be taking the rest of 2009 into account later on. These are just the acting performances that I liked best, so feel free to post your own opinions and suggestions! 
Ryan Gosling – Half Nelson (2006)
Ryan Gosling has proven himself to be one of the best young actors around, and he earned a surprise Oscar nomination for his turn as Dan, a crack-addicted school teacher, in Half Nelson. The Oscars seem to be all about big "actor's moments", but Gosling gives a great subtle, well-rounded performance here. His character is quite likeable, yet you're left shaking you head as he continues his downward spiral. Gosling does a great job of balancing Dan's teaching persona – where he's charismatic, and seems to genuinely care about his students – with his hellish private life. When Dan is caught smoking crack by one of his students, Drey (played magnificently by Shareeka Epps), he develops a special bond with her as both teacher and student try to help each other. Through his facial expressions and body language, Gosling gives one of the most quietly moving performances that I've ever seen. 
James McAvoy – Rory O'Shea Was Here (2004)
McAvoy has proven himself to become one of the most popular young actors of the latter part of this decade (and has also managed to become an odd kind of sex symbol), but before he was getting starring roles in big films like Atonement, he played a young man with muscular dystrophy in Rory O'Shea Was Here (also known as Inside I'm Dancing). Playing Rory, McAvoy had the challenge of making the character charismatic and loveable, but also exasperating at times. Rory's friendship with a young man with cerebral palsy is touching, and you're heart goes out to the boys as you see their daily struggle to live a "normal" life, and deal with the prejudice that they face from others who do not understand their handicaps. Rory has a biting sense of humour, and McAvoy's performance is both emotional and funny. For both fans and sceptics of McAvoy, I'd recommend checking out this movie. 
 Robert Downey Jr. – Kiss Kiss Bang Bang (2005)
2008 was a great comeback year for Robert Downey Jr. with Iron Man, and his Oscar-nominated work in Tropic Thunder. But my favourite Downey role that I've seen from this decade is from a few years back. Though it was not a commercial success, Kiss Kiss Bang Bang is a hilarious crime caper comedy, where Downey plays Harry, a mediocre crook who finds his way to Hollywood posing as an actor, and gets involved in a real life murder plot. Co-starring with Val Kilmer (who is actually pretty funny!), the two have great chemistry. Downey is hilarious, charming, and sexy here. His delivery is brilliant, and he plays the everyman-out-of-his-depth role like no one else. Downey is his best playing a smartass, and there's plenty of witty dialogue and clever subtleties to compliment Downey's charismatic acting style. It's a really fun movie, and a lot of that has to do with Downey's great performance.  

Jennifer Connelly – A Beautiful Mind (2001)
In my opinion, Jennifer Connelly has got to be right up there with Kate Winslet and Meryl Streep as one of the best actresses around. Even in some of the so-so movies that she's been in (think He's Just Not That Into You and Hulk), she manages to still stand out and give a really solid performances. She was fantastic in 2000′s disturbing Requiem for a Dream, but her understated, mature performance in 2001′s A Beautiful Mind is what I see as her finest work to date. Playing the wife of Russell Crowe's character, she must deal with her husband's increasingly debilitating struggle with Schizophrenia. Connelly's performance is at times vulnerable, moving, heartbreaking, and powerful as she portrays a woman who is far from perfect, but is trying desperately to make things work. 
Aaron Eckhart – Thank You For Smoking (2006)
In Jason Reitman's directorial debut, Thank You For Smoking, Eckhart plays Nick Naylor, an incorrigible lobbyist for the tobacco industry. Armed with ridiculous spin tactics and an affinity for smooth-talk, it's Naylor's job to convince people (especially children) to take up smoking, and to downplay the health risks of cigarettes. Eckhart is hilarious and smooth in the scenes where he's working his hyperbolic magic, and you can tell he's having a lot of fun with it. And although his character is relatively despicable, Eckhart still brings glimmers of warmth and genuine likeability to his performance, which prevents us from truly hating the film's protagonist. Eckhart shows real affection with his on-screen son, without falling into the sappy clichés that are so readily available in most films revolving around a single father. Here, Eckhart is larger than life in a very, very good way.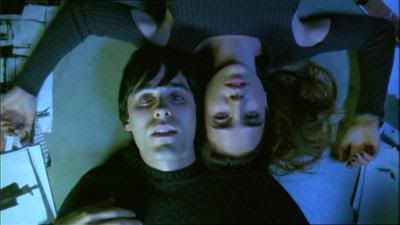 Every once in a while, you see a movie that really sticks with you. Something about it speaks to you on a higher level than merely just being an enjoyable piece of film. And even though I just watched Darren Aronofsky's Requiem for a Dream yesterday, I know that this is a movie that I'll be thinking about for a long time. Everything about it was strange, chilling, and oddly beautiful. Some people would definitely not enjoy this movie, but I think that it's an important movie for just about everyone to watch at some point in their lives. I'll skip the plot synopsis – all you really need to know is that Requiem follows four ambitious people who are destroyed by addiction.
All four of the actors are great. I thought Jennifer Connelly was amazing in A Beautiful Mind and Blood Diamond, and I now have even more respect for her after watching her heartbtreaking, subtle performance. All four stories are horrific in their own ways, but I think I was most disturbed by the person that Connelly's Marion Silver character becomes. Ellen Burstyn is certainly deserving of her Oscar nomination as Sara, an older woman addicted to diet pills. She's separated from the other cast for most of the movie, and her apartment becomes a claustrophobic, nightmarish setting which she must battle alone. But while I expected great things from Connelly and Burstyn, I was surprised by the two male leads. I guess I've always dismissed Jared Leto as a bit of a prettyboy/emo hack (surely, you can forgive me – have you heard any of 30 Second to Mars' music?) But not having actually seen much of his acting work, I was taken aback by how convincing he was as Harry in Requiem. Leto somehow made his character vulnerable, pathetic, despicable and likeable all at once. Marlon Wayans was also surprisingly strong as Harry's friend Tyrone, though he had more understated performance than the others.
I also loved the style that Aronofsky brought to the film. Many of his camera angles and techniques were very inventive, and highly effective. The whole film played out like a horror film, in a way. The soundtrack, bleak settings, dark subject matter, and camera work all created this crazy amount of tension. I look forward to watching this movie again in the future, and watching for all the stylistic touches that I missed first time around. And not to give away the ending, but the last few minutes of this film were edited so wonderfully, and it created this whirlwind climax. It was very difficult to watch, but only because it had such a visceral impact.
And let's talk about that soundtrack for a second. I've heard that same string part in umpteen billion ads for various other products and movies. I actually didn't know that it was originally from this film, and it sounds best in its originating form. At one point, the instruments are slightly out of tune, and it works amazingly. It created so much dread, and, like with many true horror movies, I found myself almost unable to watch the screen, for fear of what was going to happen next. Like this movie, the soundtrack is pretty much perfect.
So in conclusion, go out and watch Requiem for a Dream! It's heavy and depressing, but it will really make you think.
10/10
Though I'm still a little iffy on Jimmy Fallon's Late Night endeavour, I tuned into Monday night's show, and I'm kind of glad I did.
The hilarious Will Arnett was the first guest. Of course, he was witty and wonderful. (And the Roots playing 'The Final Countdown' as he entered was genius…you Arrested Development fans know what I'm talking about…) Since Arnett is known for having a distinctive voice, Jimmy convinced him to read a passage from Judy Blum's classic female coming-of-age story, Are You There God? It's Me, Maragaret. I never read the book as a young girl (I feel as though I'm missing out on some important female rite of passage. But as a pre-teen, I was too intimidated by the book's apparently blunt discussion of the menstruation process!) But ANYWAYS, let me just tell you, hilarity ensued.
Emanuelle Chriqui was the second guest. I don't really know who she is (sorry, I don't watch Entourage), but it turns out she's Canadian. There was discussion of hockey and the Tragically Hip (yay!), but the most interesting part occurred when Jimmy brought out a basket of Canadian junk food for his young guest. I actually had no idea that Kraft Dinner is an exclusively Canadian product. Or at least, I now assume that it is, since the audience laughed when Jimmy held up the box, and he had to reassure them that it was the actual product. What? And apparently they don't have ketchup flavoured potato chips south of the border, either? Coffee Crisp? Hickory Sticks? None of this rings a bell to my non-existent American readers?!?! I'm not sure why I am so surprised and confused by this, but I am! See for yourself:
As much as I absolutely adore Brendan Benson, it's kind of hard to deny that Alison Mosshart makes for a showier frontperson. And in Jack White's newest project, The Dead Weather, he takes a seat behind the drums and lets Mosshart have her way with the audience. Where White traded off garage-rock melodies with Benson in the Raconteurs, The Dead Weather is just concerned with rocking. I'm really digging what I've heard from them so far, and their debut album, Horehound, is currently topping my "to buy" list.
Their music video for "Treat Me Like Your Mother" was posted a couple of days ago on YouTube, and it's definitely worth a viewing. It's pretty badass.
A while back, I made a big ol' list of 101 movies to watch that I haven't seen yet. I could post that list here, but that would involve admitting how lacking my cinematic knowledge actually is. Seriously, there are some movies on there that everyone has seen. Even when you take into account that I'm pretty young, I still have no excuse for dodging The Matrix or Gone With The Wind. I've slowly started to work my way through the list, though. Swingers was on TV last night, and since it was on my list, I decided to give it a try.
In 1996′s Swingers, Jon Favreau (now of Iron Man directorial fame) plays Mike, a heartbroken aspiring comedian who's recently made the big move to L.A. in hopes of kick-starting his career. He has a hodgepodge of goofs for friends (including a surprisingly attractive young Vince Vaughn as Trent) who he plays ridiculously dated video games (yeah, yeah. They were totally cutting edge at the time) and riffs about Tarantino with. Jon faces a series of cringe-worthy embarrassing moments as he tries to fit in with the L.A. scene and get over his ex-girlfriend of six years.
I wasn't totally sold at first, but after a while (especially at the halfway point), I really started to get into the humour and rhythm of the movie. I even started to embrace Vaughn's incessant "baby" and "money" catchphrases. The movie has a really interesting feel to it, and it just seems quirky in the best kind of way. For a couple of losers like Mike and Trent, Favreau and Vaughn do a great job of making them seem human, and even a little likeable. So many of the scenes in the movie are really funny, and they don't rely on huge gimmicks or physical humour to get laughs. It's genuinely clever stuff. The very 90′s feel now seems like a throwback, but I'm sure at the time, this was really modern stuff.
7/10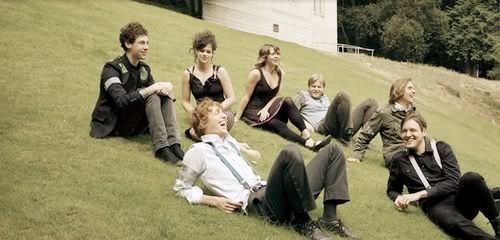 Hello to all my completely non-existent readers! It's day 2 of my blog, and so far it's still going strong!
A few days ago, Spin posted their list of the Top 10 Canadian Artists. I'm an avid Spin reader, but I find this list conflicting in many ways. It's always nice to see Canadian music gets some international attention, yet this is an American magazine, and I can't help but have the elitist attitude that they aren't qualified to choose our top ten artists. And while the list is not too bad (and has a couple of really good calls), it also misses some of our best offerings, in my opinion. Well, take a look for yourselves…
Spin's Top 10 Canadian Artists

10. Stars
9. Broken Social Scene
8. Sam Roberts
7. Metric
6. Sloan
5. Joni Mitchell
4. The Guess Who
3. The Band
2. Rush
1. Neil Young
The half/half split of new and old artists is kind of unexciting. Admittedly, I'm not even close to being knowledgeable on The Guess Who, The Band, or Stars (though I do like the latter's "Take Me To The Riot"), but I'm well acquainted with the rest. I must applaud their choice with Sloan and Sam Roberts (two acts that usually get very little love outside of Canada), and Mitchell and Young are of course deserving of their obligatory spots. Rush, though? I don't mind Rush, but I'd hardly call them the second best Canadian act of all time. I realized the other day that I do not actually like Metric all that much, after years of fooling myself. "Combat Baby" is great, and I recently heard a good acoustic version of their recent hit, "Give Me Sympathy", but overall they don't quite do it for me. Broken Social Scene is decent, but that choice just seems a bit predictable. There are lot of artists who I feel deserve a spot on the list, so rather than complaining more, I'll just make my own list:
MY Top 10 Canadian Artists

10. Death From Above 1979
9. Patrick Watson
8. Sam Roberts
7. Joni Mitchell
6. Arcade Fire
5. Leonard Cohen
4. Sloan
3. Rufus Wainwright
2. Neil Young
1. The Tragically Hip
Okay, is Sloan actually BETTER than Leonard Cohen? Probably not. But I enjoy them more (and Spin apparently agrees with me, as they failed to find a spot anywhere on their list for Cohen), so since it's a list of my favourite artists, they win. And though Rufus has dual citizenship, and Win Butler is American, I still consider those two acts to be mainly Canadian. Oh, and honourable mentions include Matt Mays and Joel Plaskett.
Previous blogs of mine have fallen by the wayside (sometimes before I get to the second post), but I'm determined to keep this one going. I figured that I'd try a new blog provider…because it must be the blog's fault that I have poor self-discipline, right? WordPress looks fancy and fun so far, so maybe the novelty of it all will keep me interested.
Summer's in full swing by now, and I'm enjoying the time off from school. I'm starting at university this fall, so I'm both a bit nervous and excited for the change. But for now, I'm just trying to focus on relaxing and enjoying the free time.
Music will likely be a big part of this blog, so I've assembled a little playlist of some songs I've been listening to a lot recently. Hopefully it'll give you a peek into my music taste. I love rock music (mainly of the alternative and indie persuasion), and I'm always open to trying to styles and artists.
Summer '09 Playlist
"No You Girls" – Franz Ferdinand
"Love Is A First" – The Tragically Hip
"Ripped Knees" – No Age
"Summer's End" – Foo Fighters
"Everything I Do" – Whiskeytown
"Rollercoaster" – M. Ward
"The Ark" – Dr. Dog
"So Says I" – The Shins
"Blue Ridge Mountains" – Fleet Foxes
"Answering Machine" – The Replacements
Until next time (and there will be one!), so long.